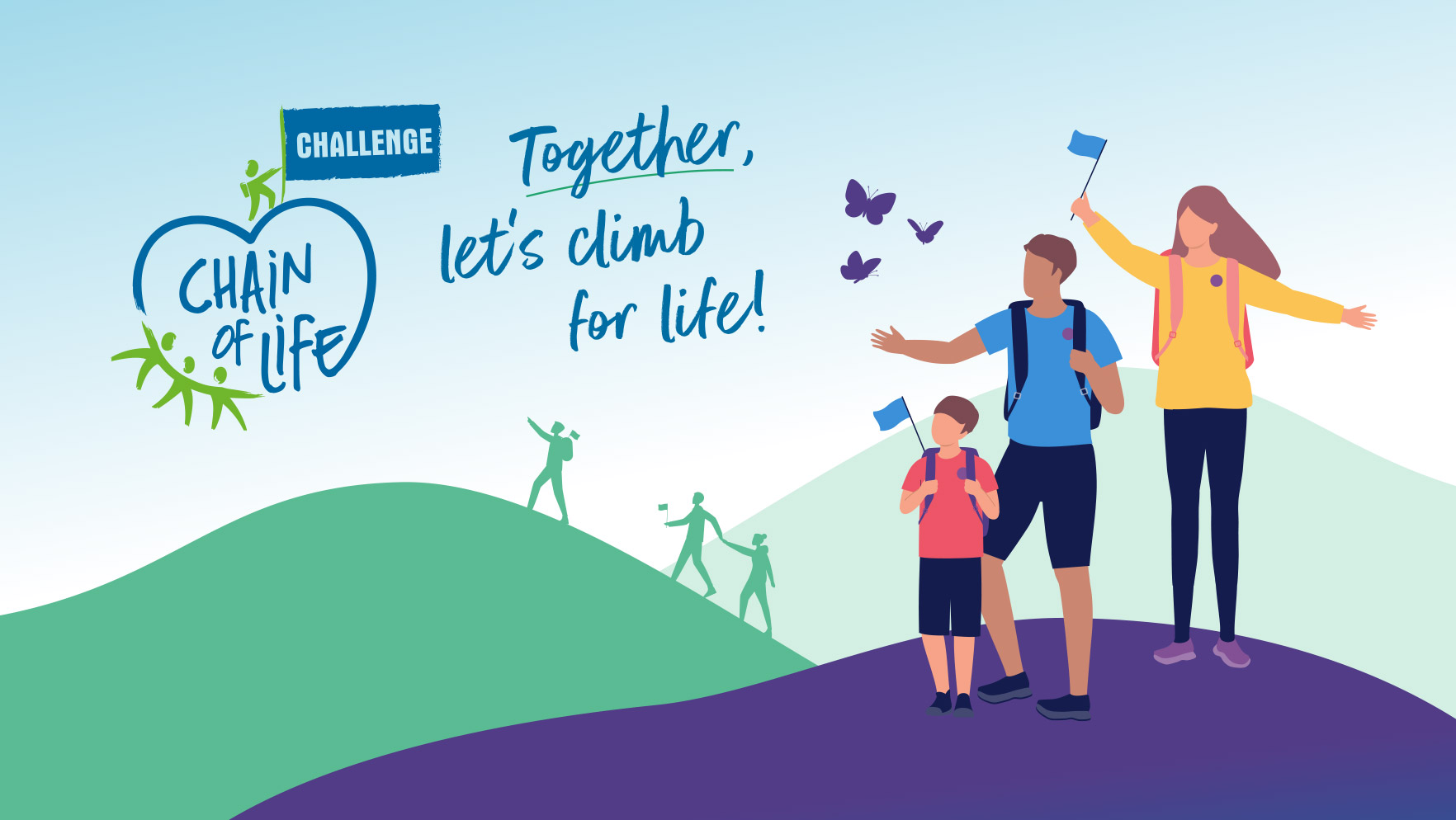 In several places around the world, people will be climbing for Chain of Life during the 2023 Challenge! And this fall, it will be your turn to take part in a pleasant family hike up a local mountain to highlight the importance of organ and tissue donation education in schools, this in the company of people representing every link in the organ and tissue donation chain.
Each year, the Chain of Life Challenge features one of these links in order to highlight their exceptional contribution to helping save lives. This year, we are particularly moved to honour donor families. By agreeing to donate the organs and tissues of a loved one, they have enabled others to regain their health or have a second chance at life. They are  essential links in the chain of life and we are very grateful to them for this gesture of ultimate generosity.
When you consider that just over 1% of people who die meet the conditions for organ donation, it's important to cherish this gesture by donor families. Last year, 171 donors and their families helped 483 people regain their health. Unfortunately, 913 people were still waiting for a transplant.
On October 14 and 15, let's pay tribute to donor families as they climb several mountains around the world as flag bearers for the Chain of Life Challenge. They will do this in the scope of the World Day for Organ and Tissue Transplantation, in memory of a loved one and in solidarity with organ and tissue donation education in schools. Donor families from the rest of Canada, the United States, France and even India will also be joining the movement, proudly carrying the Chain of Life flag to the top of their respective mountains.
We invite you to join Isabelle Maréchal and Thierry Houillon, patrons of the Chain of Life Challenge, and the Fondation de la famille Léger, the provincial partner of the Challenge, in generously supporting the chain of life in your region. 
As a non-profit organization financed almost entirely by private donations, Chain of Life counts on your support to help pursue its mission to make our young people ambassadors for family discussions about organ and tissue donation. Your donations will enable us to develop additional pedagogical tools, offer teacher training free of charge and provide materials for Quebec secondary school students in order to educate them about organ and tissue donation and the benefits of a healthy body. 
The entire Chain of Life team and its valued collaborators, regional coordinators and numerous volunteers invite you to participate in the Challenge and we look forward to seeing you proudly raising your flag on a mountaintop near you! Unable to participate? Don't forget that you can also make a donation…
Thank you from the bottom of our hearts and… enjoy the Challenge!
---
To learn more :
To sign up for the Chain of Life Challenge or to make a donation
For more information or to schedule an interview
Sophie Allard, ARP
Communications Director
Chain of Life
514 808-9474 ou sophieallard@chainedevie.org